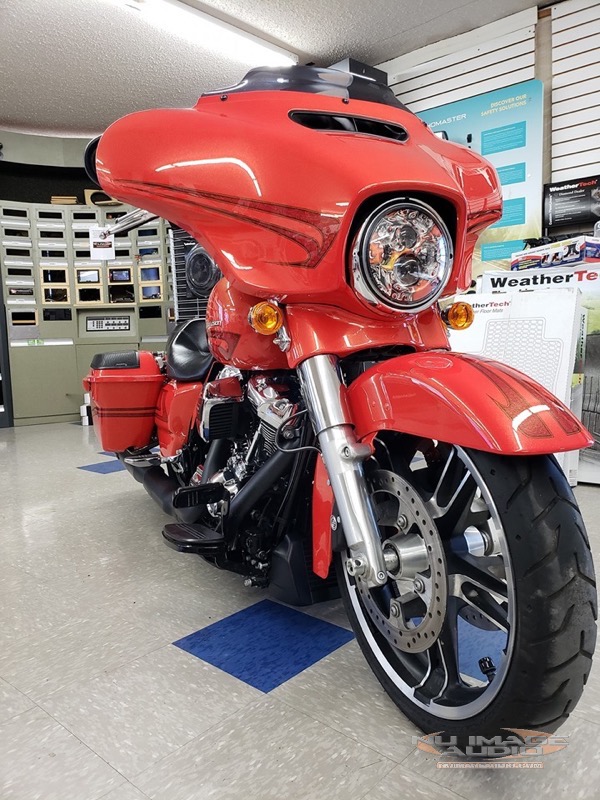 Since we're known for our extensive work on Harley-Davidson motorcycles, Sony sent us a pre-production XAV-AX7000 to install in this 2017 Street Glide for a Salina client. We've featured the work on this motorcycle in a previous post, so we'll focus on the amazing features of this soon-to-be-released multimedia receiver.
Harley-Davidson Street Glide Sony Radio Upgrade
Originally, we had installed an XAV-AX5000 on this bike. While we love the AX5000, the new XAV-AX7000 includes a preamp output that can provide up to 5 volts of signal. While this upgrade did necessitate an adjustment to the input settings of the ARC Audio PSM digital signal processor, having extra voltage is always a good thing and can improve the overall signal-to-noise ratio of the system.
Sony has enhanced the front panel and display on this radio to optimize them for motorcycles, UTVs and convertible vehicles. The new anti-glare coating, compatible with polarized sunglasses, makes it much easier to see in bright sunlight. Additionally, the bezel around the display and the five buttons across the bottom panel have a water-resistant seal. This upgrade allows the radio to handle getting splashed … although Sony doesn't recommend taking a power washer or garden hose to it.
While we didn't use it in this application, the AX7000 also includes Sony's High Power Class D amplifier that can produce an impressive 45 watts of power from each of the four channels. As a direct upgrade from the factory stereo on a Harley, this radio would provide twice as much power to make your speakers sound amazing.
XAV-AX7000 Features
The AX7000 includes Apple CarPlay and Android Auto smartphone integration to make it easy to choose music stored on your smartphone or to access a streaming service without having to press all sorts of buttons on the radio.
With the dual USB ports on the radio, you can play MP3, WMA or AAC digital audio files while still charging a phone from the other port with up to 1.5 amps of current.
The new XAV-AX7000 uses a similar chassis design that combines a single-DIN radio body with a 2-DIN touch panel display. While there is ample room on this bike for a full-chassis radio, the reduced size is appreciated.
The Ultimate Harley-Davidson Radio Upgrade
As you can imagine, the owner of this Harley-Davidson Street Glide is not only thrilled to have one of the first Sony XAV-AX7000 radios in the market, but the new features are a perfect fit for this application. If you're interested in upgrading your motorcycle, UTV or convertible with a full-feature multimedia receiver, drop by Nu Image Audio and ask about the AX7000. It will be shipping soon!