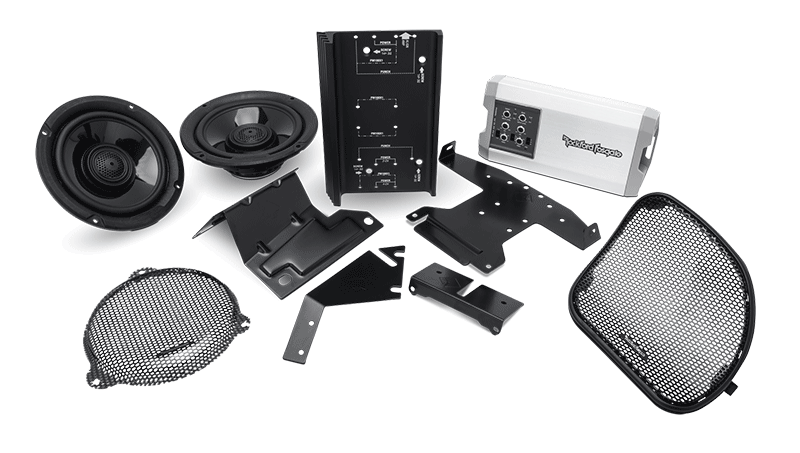 If you live in the Salina area and own a Harley-Davidson, we invite you to visit Nu Image Audio to experience just how amazing the Rockford Fosgate stereo system upgrade kits sound. Designed as a plug-and-play solution for Road Glide and Street Glide Harleys from 1998 onward, these packages include high-power amplifiers, premium speakers, and all the wiring and cables we need to complete the installation on your cruiser. Let's look at a few of the unique features that make this some of the best options on the market to improve the sound on your Harley-Davidson.
Harley-Davidson Front Audio Kits from Rockford Fosgate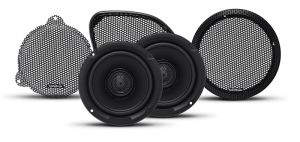 Available in your choice of premium-performance Punch-Series or top-of-the-line Power Series packages, Rockford's front audio upgrades include high-quality speakers like the direct-fit Element-Ready TMS65. These weather- and UV-resistant 6.5-inch speakers deliver amazing sound quality and excellent power handling to ensure your music sounds great when you're cruising the boulevard or with the throttle cranked while on the Interstate. Super-efficient amplifiers like the TM400X4ad can deliver up to 100 watts of power to the front, and an optional set of matching rear speakers ensures your music is clear and detailed.
Rockford includes mounting brackets and speaker solutions designed specifically for 1998 through 2013 Road Glide (HD9813RG-TKIT) and Street Glide (HD9813SG-TKIT), and 2014 and newer bikes of either design with the awesome HD14-TKIT. Each system is optimized to deliver maximum performance and reliability without the need to make any permanent modifications to the motorcycle.
Harley-Davidson Saddlebag Speaker Solutions
As awesome as the front speaker upgrades are, Rockford's saddlebag speaker upgrades set a new level of performance and installation flexibility for rear speaker upgrades. The TMS69BL14 for 2014 and newer cruisers and the TMS69BL9813 for 1998 through 2013 models include a set of TMS69 element-ready 6×9-inch coaxial speakers and a set of custom mounting brackets and grilles designed specifically to work with the existing bag lids. The system includes a template that our team can use to cut out the forward corner of the bag lid, then add the new bracket and grille sandwich around that opening to deliver a clean and custom look that can be completed in a few hours. The old-school way of molding speakers in the lids and having to paint them took weeks and didn't always guarantee a perfect color match. Rockford's solution sounds great and looks awesome.
Salina's Motorcycle Audio Upgrade Experts
The installation technicians at Nu Image Audio aren't just familiar with motorcycles audio upgrades; we own and ride as well. We've upgraded our personal bikes and know what it takes to deliver world-class audio performance while taking care of the paint and brightwork on these classic cruisers. We use only the best practices in the industry to ensure our installations are reliable and will continue to sound amazing for the life of the motorcycle.
If you are interested in upgrading the sound system on your Harley-Davidson cruiser, we invite you to visit Nu Image Audio in Salina and have a listen to one of our demo systems. We know you'll be impressed by the improved clarity and volume capabilities of the Rockford Fosgate audio kits and the work our technicians perform. If you have any questions or would like to schedule a personal consultation, give us a call or send an e-mail using our online contact page.