Motorcycles are a passion for us here at Nu Image Audio in Salina. Our owner is an avid rider and, when you couple that with our passion for audio, it is no wonder that more and more people in central Kansas choose us for their motorcycle audio systems.
The Design Phase
It all starts with understanding your needs. Our team will get together with you and your bike at our shop so we can look it over and explore options. We will listen as you explain how you use your bike, what you want to use as your source for the music and your overall goals for the upgrades. We will use all of that information in the design phase of your audio system. If your budget requires, we can explore doing the upgrades in planned, logical stages.
Product Selection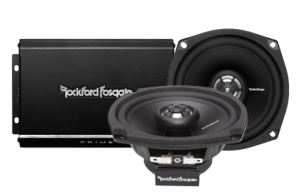 When the design is in place, we will choose the products needed from our selection of the finest brands around. Being specialists in mobile audio gives us a unique perspective when it comes to designing and building your system. To put it simply, we know what works well and what doesn't. What you won't find is us scanning through a catalog looking for a product that we think will perform. As motorcycle audio systems get more and more popular, we see new people every day saying they can do your upgrade. Unfortunately, the guy building your engine, setting up your suspension or painting your bike is probably not the best person to build an audio system. Stick with an audio expert and you are destined to have a better-sounding, more-reliable system.
Professional Installation
Once the products are chosen, Nu Image Audio will perform an award-winning installation designed to take the abuse that an audio system on a bike will endure. We use everything from solder and heat-shrunk connections to properly loomed and securely mounted wiring harnesses to ensure the utmost in reliability. Our unwavering goal is to give you an audio system that never needs servicing.
Audio Sources
Maybe you own a bike and want to play your music from your smartphone into your vehicle. No problem. We have several ways we can stream music wirelessly from your phone into your audio system. From Bluetooth modules to complete replacement radios, we have you covered.
Additional Speakers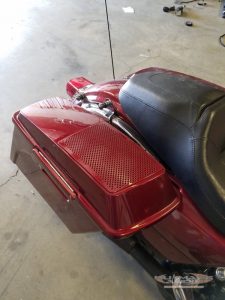 If your bike only came with one set of speakers and you really want to jam, you're gonna need more. No problem here, since we can add extra sets of speakers to get you the output you need. If you own a Harley bagger and want rear speakers but hate the look of big, round grilles, we have big lids with a stealth grille that looks great while giving you all the sound you need.
More Power!
To get your bike to really jam is going to take power, and Nu Image has a great selection of amplifiers designed to work with the limited charging capacity of your electrical system while giving you great sound.
Stop By Today To Learn More About Motorcycle Audio
When you are ready to upgrade the audio system on your motorcycle, stop by Nu Image Audio in Salina. Let us show you why more people every year trust us with their bikes.
You can also contact us here for more information about any of our products and services.