Upgrading factory sound systems at Nu Image Audio in Salina does not always mean changing the radio. Our team of expert installers and salespeople can design an audio system that will sound like a live concert or a recording studio while maintaining the reliability and cosmetic integrity of your vehicle. We can make new speakers, amplifiers and signal processors work with almost any factory head unit on the road.
Features Versus Performance
If your factory head unit includes CarPlay and Android Auto and has Bluetooth hands-free and audio streaming, then there isn't any point in removing it. If we do not have to commit money to a new radio, we can work with your system budget to upgrade your speakers and include a Digital Signal Processor for better sound.
Why We Compensate for Factory Equalization
Automakers have realized that applying equalization and signal delay to inexpensive speakers yields better results, at a cheaper price, than using premium speakers. Once we place a speaker into an environment like a car or truck, the effect of the environment itself has more to do with how the system sounds than the speaker itself. Vehicle manufacturers tune the factory audio systems during the development process so that they sound as good as they can. If we remove those cheap speakers and install something with smoother frequency response and less distortion, the processing works against us. New speakers will not sound very good, and you won't be happy with us.
Factory Audio System Integration
We need to know what we are working with before we even begin to design a new audio system. Some simple four-channel radios include equalization that requires removal. Audio systems that use factory-installed amplifiers often have elaborate equalization and signal delay settings that can present a challenge for us. If we have not worked on a vehicle like yours before, we may need to do some investigation and measurement before we start.
Amp Replacement Solutions
Several aftermarket audio companies offer modules that will allow us to remove factory amplifiers and connect an aftermarket amplifier directly to your factory head unit. If this solution is available for your vehicle, the results will be amazing. In many cases, the audio signal between the source unit and the amplifier is unaltered and sounds great. The modules provide us with volume control and the ability to adjust functions like bass and treble while ensuring chimes and navigation prompts are routed correctly.
System Integration Processors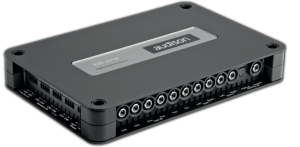 We offer several integration processors that will accept high-power signals directly from your amplifier and analyze them for equalization and signal delay. If there are filters applied to multiple channels, these processors can recombine those signals to provide us with a time-coherent, full-bandwidth signal that we can use for new amplifiers and speakers.
Upgrading Factory Sound is What We Do at Nu Image Audio
When it comes to upgrading factory sound systems, choose Nu Image Audio. The weakest links in your audio system are your factory speakers and amplifier. Once we upgrade those and tune the new system, your music will jump to life. Detail, focus and realism will be incredible, and of course, the new system will get good and loud!
For more information about our factory audio system integration services, send us an e-mail using our online FORM, drop by our store or call 785-309-1617.