The Flex 2 remote car starter from Nu Image Audio in Salina offers excellent range and easy access to commonly used features. The system includes a long-range four-button remote control that offers two-way communication between the vehicle and the remote to confirm reception and execution of functions. Two-way communication means that you'll never have to wonder whether your car doors are locked or if your vehicle started when you press the button.
Four-button Long-range Remote Controls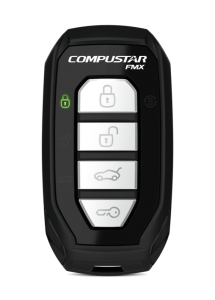 The Flex 2 includes a two-way four-button remote control and a matching four-button one-way companion remote. Locking, unlocking, remote start and trunk release functions each have dedicated buttons with icons that make it easy to learn to use the system. LEDs on the remote and an internal beeper confirm that the system has received commands.
All Nu Image Audio Flex and Edge remotes are designed to handle impacts, thanks to highly durable plastic injection-molded cases. The remotes are water-resistant, so they will continue to work even if you drop them in a puddle or snowbank.
Remote Starter System Options
The Flex 2 remote starter can do a lot more than control your door locks and start your vehicle. We can add a temperature sensor that will activate the rear window defroster or heated seats automatically in most vehicles. If you work in a large building, we have smartphone integration options that use cellular communication to let you remote start your vehicle from almost anywhere.
Our remote starters work with most gasoline, diesel and hybrid drivetrain vehicles with convention key cylinder and push-to-start applications. We even have solutions for manual transmission vehicles, so your sports car can be warmed up and ready to go when you are.
Find Out More about the Flex 2 Remote Starter at Nu Image Audio
If you are shopping for a remote car starter for your vehicle, we invite you to visit Nu Image Audio in Salina and speak to one of our product specialists. They will work with you to quantify your function and remote range requirement needs, then suggest a starter solution that will ensure your car or truck is comfy and ready to go all winter long.
For more information, give us a call or use our contact page to send us an e-mail.