A client from here in Salina recently contacted Nu Image Audio to inquire about adding an audio system to his 2015 Yamaha Stryker motorcycle. What makes this a unique challenge is that unlike the Star Venture or many Harleys, there is no option for a sound system on this bike. We needed to do some research to ensure we'd be able to deliver the audio performance level the client wanted while maintaining the look and feel of the bike.
Custom Motorcycle Speaker Solution
The project started with a search for a high-quality speaker solution for the bike. While it would be great to bolt a set of large 6.5- or 8-inch marine speaker enclosures to the front handlebars, the result would look completely out of place. After some searching, we chose a set of Kicker KMMTES 4-inch fiberglass speaker pods. We mounted the pods to the to the frame of the bike on either side of the radiator and angled them upward to face the rider. We installed a set of Hertz Energy-Series ECX 100.5 4-inch coaxial speakers in the enclosure.
Rockford Fosgate Saddlebag Amplifier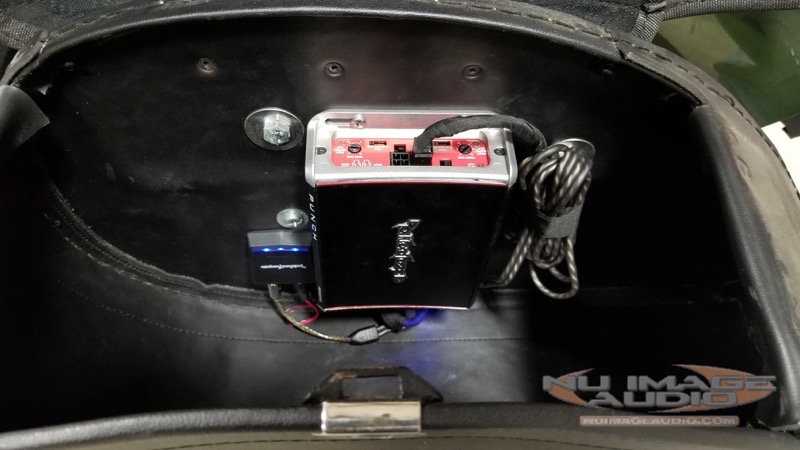 The next step was to choose an amp for the system. We suggested a Rockford Fosgate PBR400X4D for its power capabilities and compact size. This two-channel amp can deliver up to 200 watts of power per speaker from its diminutive 4.3-by-6.8-inch footprint. We mounted the amp in the left-hand saddlebag and connected it to the battery using an 8-gauge Stinger amp kit. We mounted a Rockford Fosgate RFBTRCA stereo Bluetooth receiver beside the amp so the client can listen to music or a streaming audio service from his smartphone. The volume control on the phone serves as the master volume control for the sound system.
Yamaha Stryker Audio System
With the equipment installed, the last step was to make sure the sensitivity control on the amp was optimized for the output of the Bluetooth module. We also configured a high-pass filter on the amp at 80 Hz to limit the amount of bass information sent to the relatively small 4-inch speakers.
When the client returned to Nu Image Audio in Salina, he was thrilled with the way the black speaker enclosures and mesh grilles blended with the black frame of the motorcycle. We helped him pair his smartphone to the Rockford Fosgate Bluetooth Module and let him hop on the bike for a listen. The system plays loud and clear, and it was just what he wanted! If you're interested in upgrading the sound system of your motorcycle, drop into our store, give us a call or send our team an e-mail using our contact page. We'd be happy to help!