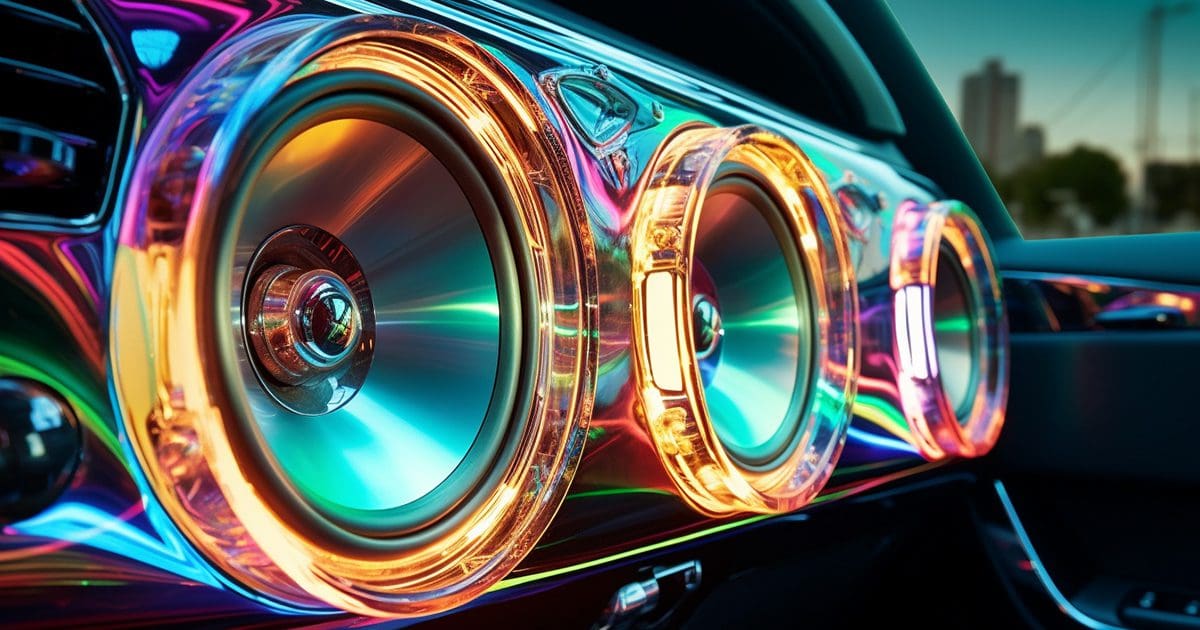 Speakers are, by a long way, the most influential component in any audio system when defining performance or quality. Low-quality speakers, or those without specific technologies, can't match the clarity levels of premium solutions. In addition, many music enthusiasts want their car audio systems to play louder than what's possible with factory-installed equipment. After all, jamming to your favorite music while going to work or school is a great way to start the day! Is upgrading the speakers the right solution? Let's look at the physics of loudspeaker efficiency and output capability.
Car Audio Speaker Efficiency
One of the many reasons people ask to upgrade the speakers in their cars and trucks is a desire for the system to play louder. Unfortunately, most high-performance speakers aren't as efficient as those that the manufacturer provided.
When shopping for speakers, you'll need to look at the efficiency specification. This number describes the amount of sound a speaker will produce for a given signal from an amplifier. The standard specification describes the speaker's output in dB SPL at 1 meter from the speaker when powered with 1 watt from an amplifier.
A second standard exists where 2.83 volts are applied to the speaker, and the output is measured at 1 meter. There is nothing wrong with the 2.83-volt rating, except that you have to consider the speaker's impedance when comparing drivers. For example, a drive level of 2.83 volts equals 1 watt of power when driving an 8-ohm speaker, 2 watts when driving a 4-ohm speaker and 4 watts with a 2-ohm speaker.
The output of a speaker increases or decreases by 3 dB every time the power is doubled or halved. Therefore, be sure you're comparing like numbers when comparing speaker efficiencies. If no drive level specification is provided, it's safe to assume the manufacturer will choose the 2.83-volt measurement to produce the highest numbers.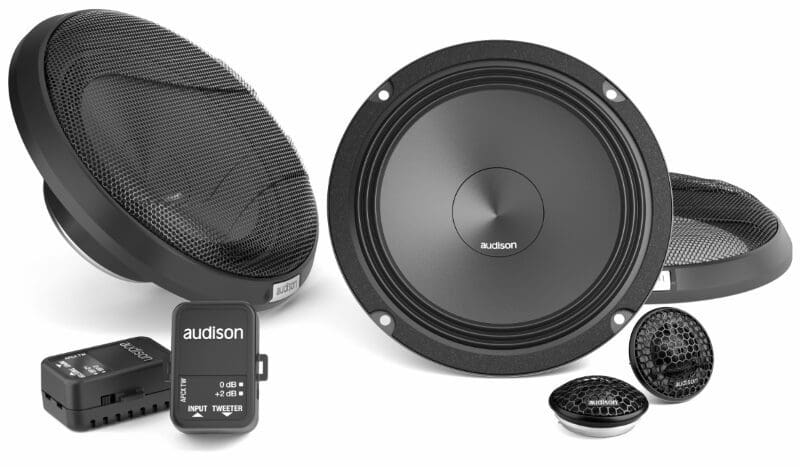 Are New Car Audio Speakers Going To Be Louder?
A while back, we measured the output of a 6.5-inch speaker from a Honda Civic as part of our series on understanding speaker quality. Our measurements showed that this speaker had an efficiency of 89.04 dB SPL when driven with 1 watt of power and measured at a distance of 1 meter. So how does this number compare to common replacement speakers? First, let's look at a few examples from Rockford Fosgate. I've chosen this brand as it has a variety of offerings and many price points and performance levels.
Starting with its most affordable option, the Prime Series R165X3 has a rated efficiency of 91 dB SPL at 1W/1M. You'd be able to hear this 2-dB increase in output. What if you want a better speaker? It seems logical to move up to one of the Punch Series drivers. The P1650 is a very popular replacement speaker, but it has an efficiency of 88 dB SPL at 1W/1M. Does this mean the speaker isn't as good? No, it's simply not as efficient. If you want an even better speaker, then the Power Series T1650 is the next step in the series. This driver also has an efficiency of 88 dB SPL at 1W/1M. So why are the better speakers not louder?
When a transducer engineer is designing speakers, they must balance many characteristics. How efficient will the driver be? How low should it play? How much power can it handle? How much excursion is required? Unfortunately, some of these characteristics oppose each other. A driver of a given size that is intended to play lower frequencies will need a lower resonant frequency. This lower Fs value is usually achieved by increasing the cone's mass and softening the suspension. The increased mass of the cone assembly decreases the driver's efficiency. An extreme example of this would be a 6.5-inch subwoofer. A typical 6.5-inch car audio subwoofer has an efficiency of around 80 to 81 dB at 1W/1M.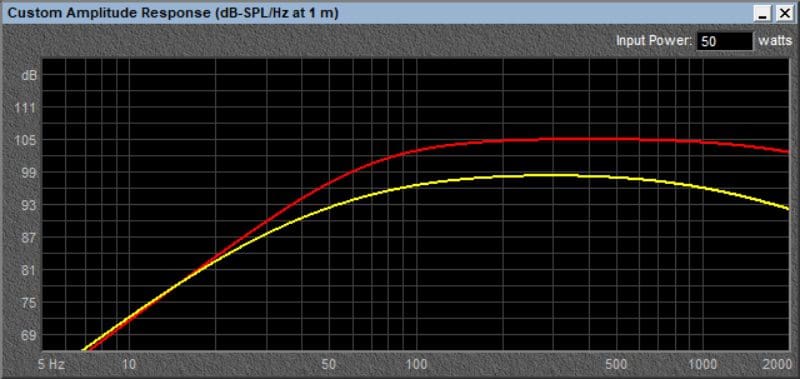 As you can see, the 6.5-inch midrange driver is much louder at higher frequencies. So, why not use it as a subwoofer? Well, it doesn't have the power handling or excursion capabilities required to reproduce low-frequency audio and high volume levels. A typical full-range 6.5-inch driver might handle about 50 or 60 watts of power and have a maximum linear cone excursion of roughly 3 millimeters in each direction. An equivalently sized subwoofer might handle 150 watts of power and have 9 to 10 millimeters of excursion capability. Since we know that speakers need to move a lot more air to produce bass, it's clear that the subwoofer would be louder at lower frequencies.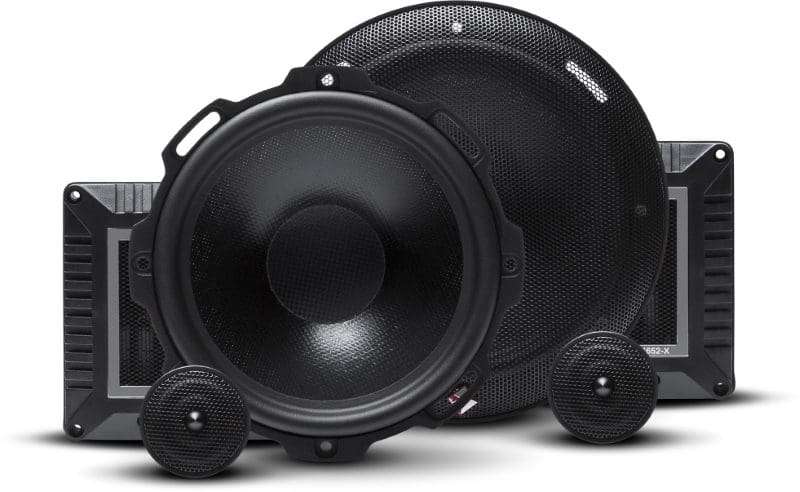 What About PA Speakers?
We have pro audio or PA speakers at the other end of the speaker spectrum. These drivers are designed for applications where the most output possible is required from minimal amounts of power. For example, let's say you were responsible for setting up the sound system for a Metallica concert in an open-roof stadium. Many of these installations have about a megawatt of power driving the speakers and subwoofers. Assuming 220-volt, 30-amp circuits feed the amplifiers, the sound system would need more than 180 circuits. However, if you could find 3 dB more efficient speakers, you could get the same output for the audience from 90 circuits and half the amplifier power.
PA speakers use designs that trade low-frequency output for increased midrange output. For example, a 6.5-inch PA-style speaker might have an efficiency of 92 or 93 dB at 1W/1M. This would be achieved by lowering the mass of the cone assembly as much as possible. The trade-off would be output at lower frequencies. Unfortunately, many high-efficiency 6.5-inch speakers have an Xmax specification of only 1.5 to 2 millimeters. As a result, they sound horrific when used incorrectly and driven with midbass information in the 80-to-150-hertz range at high levels.
Unlike a car audio system, there's no need to drive concert midrange drivers down to 80 Hz to help with the perception of bass frequencies sounding as if they're coming from the front of the vehicle. Instead, the crossover point can be at 150 or 200 hertz, and the system will sound the same to the audience. If you look at the frequency response specification of a concert subwoofer, you'll find that most are designed to play up to 200 hertz. You may also note that these subwoofers also call for a high-pass filter, or what car audio enthusiasts would call an infrasonic filter at 35 hertz.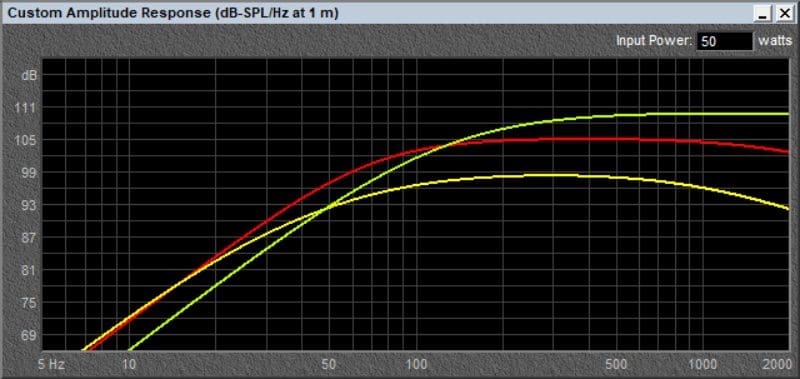 As you can see from the graph above, the green trace shows that the speaker is much more efficient in the upper midrange, but at the expense of low-frequency output.
Which Speakers Are Right for My Car Audio System?
In general terms, you have two options for replacement speakers for your car stereo: You can choose from a number of relatively high-efficiency solutions like the X2 speakers from ARC Audio, Prime Speakers from Rockford Fosgate, Prima speakers from Audison or Uno speakers from Hertz. These are great choices if you use a radio with up to about 22 watts of power to drive them.
If you plan on adding an amplifier to your car audio system, your speaker choice might change to something like the ARC Audio ARC Series, the Rockford Fosgate Punch, Sony Mobile ES or Hertz Cento. These speakers can handle more power and have more excursion capability to play louder. With that said, they need more power to reach those output levels. A secondary reward for choosing better speakers is that they are typically clearer and more detailed.
When it's time to upgrade your car stereo, visit a local specialty mobile enhancement retailer so you can audition the speakers they have on display. Talk to the product specialist about your long-term plans for your audio system, along with your immediate performance improvement goals. They can use this information to select speakers that will meet your expectations.
This article is written and produced by the team at www.BestCarAudio.com. Reproduction or use of any kind is prohibited without the express written permission of 1sixty8 media.