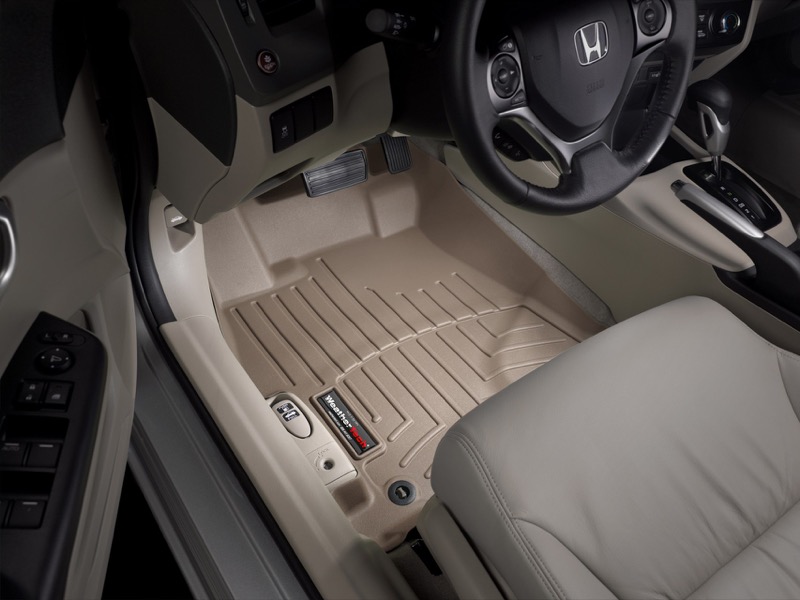 If you're looking for a way to enhance and protect your vehicle, drop by Nu Image Audio in Salina and ask about the WeatherTech line of vehicle accessories. Though best known for its amazing FloorLiner car mats, WeatherTech offers a variety of solutions to help keep the interior and exterior of your car, truck or UV clean and tidy. Let's look at a few of the most popular products we offer.
WeatherTech FloorLiner Floor Mats
Often imitated but never duplicated, WeatherTech Digital Fit FloorLiner rubber mats are a vehicle-specific solution that offers the best protection possible to keep your carpets clean. Each FloorLiner is designed from a three-dimensional scan of the vehicle's interior to protect against water, dirt and sand. These mats extend up the front and sides of the footwell to help maintain the value of your vehicle.
FloorLiner mats are available for front and rear seat areas in cars and trucks, and there are third-row solutions for larger SUVs. WeatherTech offers mats in several colors, including black, gray and cocoa, to match your vehicle's interior. The Cargo/Trunk Liner uses the same long-lasting rubber and 3D-scanned design process to protect your trunk or cargo area from damage from spills or leaks.
Side Window Deflectors
If you like to drive with your windows down for fresh air, adding a set of WeatherTech Side Window Deflectors is a great option. These premium window vents fit snugly into the window channel for a clean look and optimized aerodynamics. Even if it's pouring rain, the interior of your vehicle will stay cool and dry.
Stone and Bug Deflectors made from aerospace-grade acrylic are available to help keep the front of your car, truck or SUV looking like new.
MudFlaps for Pickups and SUVs
If you find yourself frequently driving on dirt or gravel roads, you can protect the rocker panels and fenders of your truck or SUV with a set of laser-measured MudFlaps from WeatherTech. Many styles  include the stainless-steel QuickTurn fastening system so our team can have you on the road quickly and efficiently.
Another great upgrade for your pickup truck or SUV is the WeatherTech BumpStep. These hitch-mounted steps are available in a variety of sizes and finishes to make it easy to access the contents of your truck bed or the roof rack on an SUV.
Keep Your Vehicle Looking Like New with TechCare
The WeatherTech TechCare line of cleaning and protective products will keep your floor mats, dash, carpet and seats looking like new. Options include FloorLiner Cleaner and Protector, Interior Detailer, Leather Conditioner with Aloe Vera, Carpet Cleaner with SpotTech and Interior Glass Cleaner with Anti Fog. Car Shampoo, Wheel Cleaner, Carnauba Gel Wax, QuickTech Detailer and Tire Gloss are also available. Buckets, towels and wash mitts are also available to help ensure that your vehicle looks great all the time.
Protect Your Vehicle with WeatherTech
The staff at Nu Image Audio in Salina would be happy to help you choose from the variety of WeatherTech products available to keep your vehicle looking like new. Drop by our store today and speak with one of our product specialists. If you can't visit us, give us a call or send our team an e-mail using our contact form.