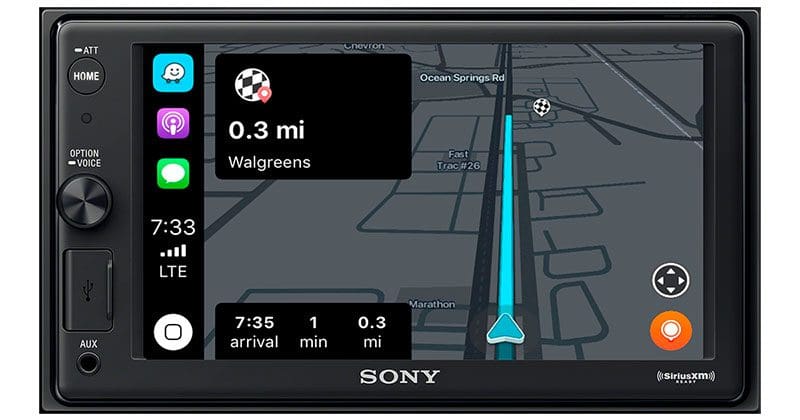 There's no denying the convenience of having a navigation system in your vehicle, whether it's smartphone-based or built into your radio. With the nearly instant popularity of Apple CarPlay and Android Auto, smartphone-connected radios are quickly replacing built-in navigation solutions as the upgrade of choice. The question is, which is the better navigation solution? Let's look at some of the benefits and drawbacks of each technology.
What Is Built-In Navigation?
If you are purchasing a new media receiver for your car or truck, there are options from Kenwood, Pioneer or Alpine for units with built-in GPS-based navigation systems. When we talk about built-in nav, we're referring to a solution where the navigation software and mapping are built right into the radio.
What Is Smartphone Navigation?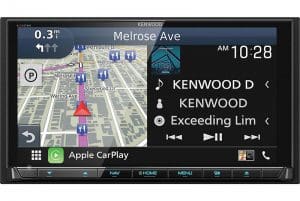 When we discuss smartphone navigation, we aren't talking about sticking your phone on a mounting bracket on the dash. While that is functional, it lacks the true integration features that make systems like CarPlay and Android Auto so desirable. For iPhone users, Apple CarPlay allows you to use Apple Maps, Google Maps or Waze to navigate to the destination of your choice. Most Android Auto users use Google Maps or Waze for directions. Motion X GPS and iGo Navigation are some additional alternative navigation software solutions. Media receivers with Apple CarPlay and Android Auto are available from Sony, Kenwood, Pioneer, JVC and Alpine.
What Does Smartphone-Integrated Navigation Offer?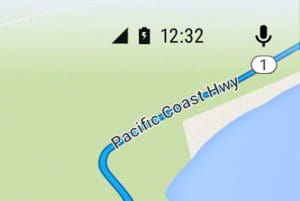 There are three significant benefits to using your phone with Android Auto or CarPlay for navigation. First and foremost, the map data is always as fresh as possible. As long as you're connected to the internet, you have instant access to the latest map information used by Apple Maps, Google Maps or Waze and you never have to purchase an update. In-dash systems require updates that typically involve purchasing new mapping.
The second benefit is the voice recognition interface. If you want to go to a specific address, you can tell the system where you want to go using conversational English commands. The programmers at Apple and Google call this technology natural language processing, and it's based on rudimentary forms of artificial intelligence. Don't worry, Skynet isn't active, yet.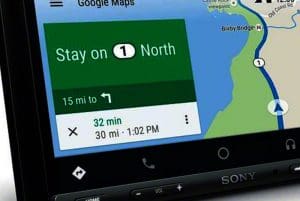 While some built-in nav systems will accept voice commands, what you say and how you say it needs to be very specific. You might be able to say, "Navigate to 100 Main Street in Anytown USA," whereas your smartphone will understand "get me directions to," "help me find," "take me to" or "plan a route" and then the address.
The third benefit is access to real-time destination information. You can search by address, by a company name or even a category. Ask for a Korean BBQ restaurant, a gas station or a hospital – whatever you need, whenever you need it. Best of all, the information is stored in the cloud (which we all know is just someone else's computer) and never needs to be updated. Built-in navigation systems rely on destination (called Point-of-Interest or POI) databases that are stored alongside the map data. Just like the maps, these need to be updated frequently to remain accurate and useful.
Drawbacks of Smartphone Navigation?
Well, one potential drawback of using your smartphone for navigation is that it will consume some amount of data. Depending on whom you ask, Google can use between 0.6MB and 2.2 MB of data per hour. That's pretty low. Waze, thanks to its simple interface, is even lower and Apple Maps is a little higher. If your cellular plan has limited data access, it's something to keep in mind, but not obsess over. If you travel over the border between Canada and the US or into Mexico, be sure to take potential data roaming charges into account.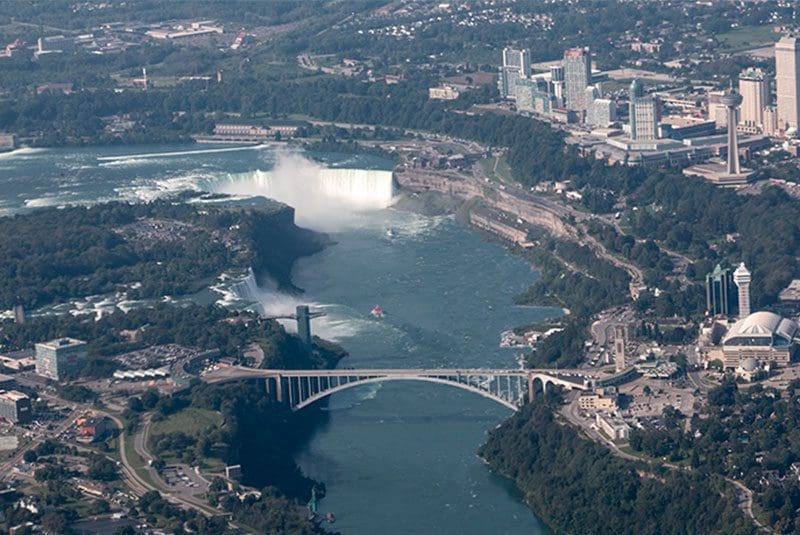 One option for overcoming this limitation is to download the map data you need directly to your phone while you're connected to the internet at home or work. Within Google Maps, you can choose how much map area you want to download. Something worth noting: You have to download enough map information to cover your entire route. For example, if you download downtown Buffalo and downtown Detroit in separate files, the system can't plan a route between the two without internet access. Nevertheless, it's better than nothing.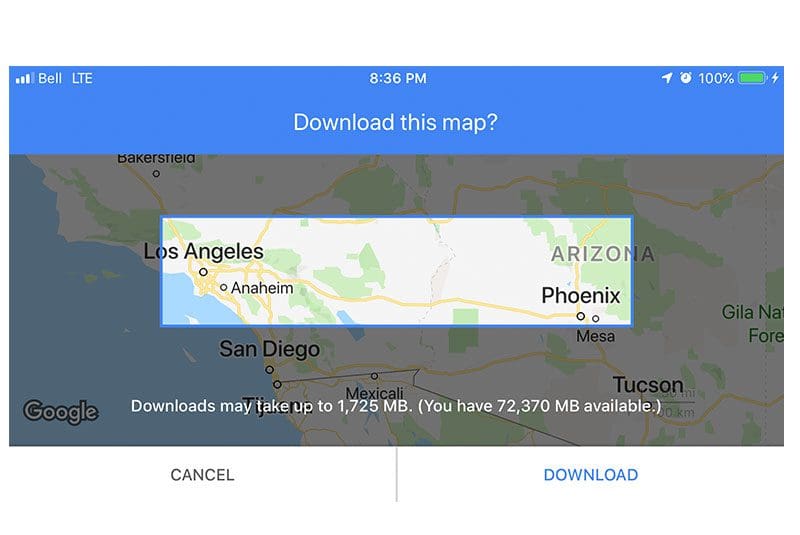 Benefits of Built-In Navigation Solutions
No matter where you are, your navigation system is ready and willing to help you reach your destination. You never have to worry about internet connectivity or additional cost to use the solution you already own. There are never problems plugging things in because of damaged or low-quality cables or connectivity issues because of software updates from Google or Apple. In fact, you don't need to remember to plug in your phone, or even take your phone with you to get where you want to go.
Drawbacks of Built-In GPS
Navigation solutions built into your radio rely on map data stored on an SD or microSD card. Companies like TomTom and Google (which create and own the map data) see the dissemination of this information as a profit center. The company that developed the navigation software in your car radio (Garmin or NavNGo, the maker of iGO) needs to include a license for the map data contained in the system. If the map information isn't accurate, then you'll need to purchase an update from your supplier. You'll need a computer and likely a memory card and reader to complete the update. Quite simply, if your maps aren't up to date, then the route the system plans man not be accurate, or even possible.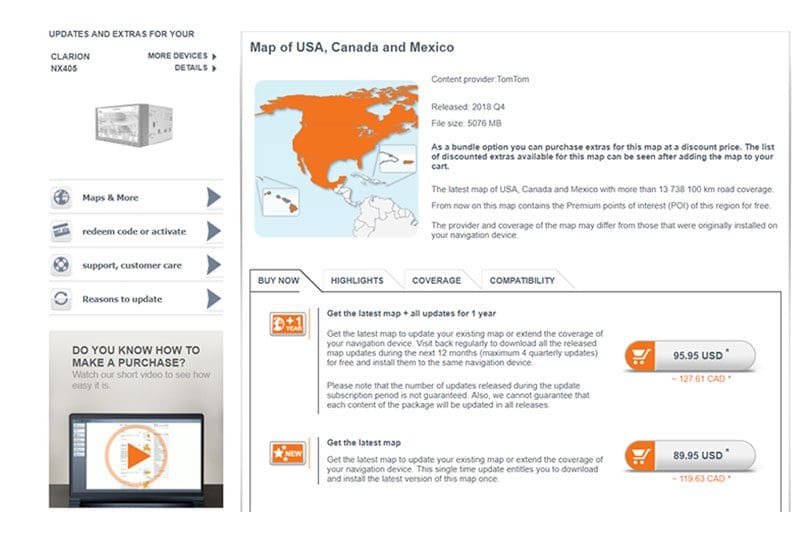 Choose the Navigation Solution that Meets Your Needs
Where you drive and how often you need directions will determine whether or not you choose a multimedia receiver with built-in navigation, with CarPlay and Android Auto or both. Your local specialist mobile enhancement retailer can help you choose one that works perfectly for your needs and fits nicely into your vehicle. Drop by and check one out today!
This article is written and produced by the team at www.BestCarAudio.com. Reproduction or use of any kind is prohibited without the express written permission of 1sixty8 media.