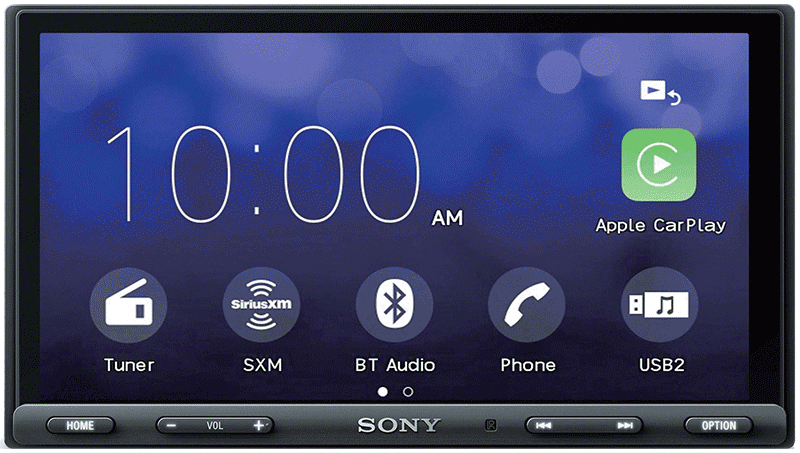 If you are looking for a double-DIN multimedia receiver with classic styling and amazing features, drop by Nu Image Audio in Salina and ask for a demonstration of the Sony XAV-AX5000. Equipped with Apple CarPlay and Android Auto smartphone integration, a bezel-free 6.95-inch display and dual USB ports, the XAV-AX5000 not only looks great but has all the audio source features most of us would ever need.
Classic Style and an Impressive Feature Set
While some radio manufacturers think the dashboard of your vehicle should look like a video game, the matte black cosmetics and clean, bezel-free style of the XAV-AX5000 looks as though it belongs in your dash. Sony includes provisions that allow us to connect the radio control buttons on your steering wheel for a seamless operating experience.
The AX5000 includes dual USB ports so you can connect your smartphone and play digital audio files from a memory stick. The primary USB port supports MP3, WMA, AAC, WAV and FLAC audio files, along with MPEG-4, AVI and MKV video files up to 1280×720 pixel resolution.
System Expansion Options
We can add a SiriusXM satellite radio tuner module at the time of installation to provide non-stop entertainment for your next adventure. The AX5000 includes a backup camera input with automatic triggering. We can add the camera of your choice to help to maneuver and park your vehicle safely and avoid accidents.
In terms of audio features, the radio includes a 22-watt-per-channel four-channel amplifier, and the front, rear and subwoofer preamp outputs are rated at 2.0 volts to make it easy to upgrade the system with a subwoofer or high-power main amplifier. Built-in electronic crossovers, a 10-band graphic equalizer and Sony's Dynamic Soundstage Organizer help our technicians fine-tune the performance of your audio system for a realistic listening experience.
Advanced Smartphone Integration Features
With Apple CarPlay and Android Auto integration, you can use the voice recognition features of iOS and Android to perform functions without having to touch the screen of the radio. By simply asking, you can send a text message, make a phone call or choose from more than a dozen internet streaming sources like Pandora, Tidal, iHeartRadio or Slacker. Turn-by-turn navigation instructions with real-time traffic flow information are also available, thanks to Google Maps, Waze and, of course, Apple Maps from your iOS device.
Visit Nu Image Audio to Experience the Sony XAV-AX5000
If you are in the market for a new digital media receiver for your vehicle, drop into Nu Image Audio in Salina and ask to see the Sony XAV-AX5000. If you have any questions, give us a call or use our online contact page to send our team an e-mail. We look forward to seeing you!