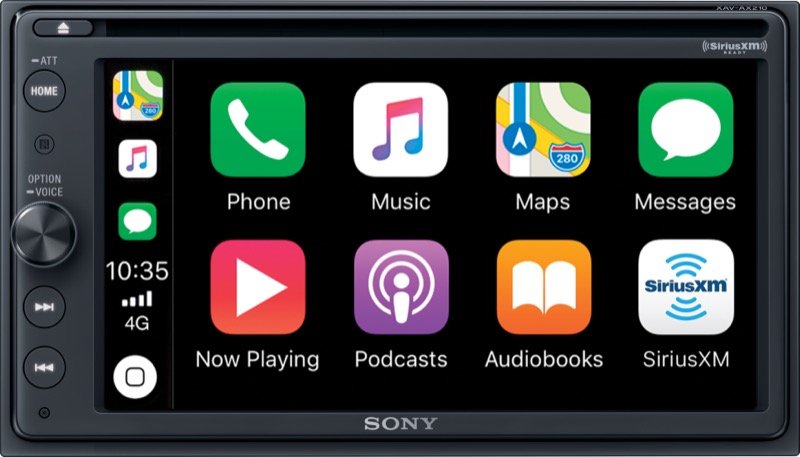 If you are looking for a way to upgrade the technology connectivity in your car or truck, drop by Nu Image Audio in Salina and ask about the amazing Sony XAV-AX210 AV center. A rotary volume control and 6.4-inch touchscreen make the radio easy to use, and the understated styling makes it look great in your vehicle's dash. This well-equipped radio includes all the source features you could ever ask for and features iDatalink Maestro compatibility for advanced vehicle integration.
Sony XAV-AX210 Source Options
The XAV-AX210 is a double-DIN DVD receiver with Bluetooth. The integrated AM/FM tuner includes RDS information display, and we can upgrade the system with an SXV300 SiriusXM satellite radio tuner. The rear USB port will play MP3, WMA, AAC, WAV and FLAC audio files and MPEG-4, WMV, FLV, XviD and MKV video files at up to 720×576 resolution (depending on the format). The USB port also provides connectivity with Apple and Android-based smartphones for CarPlay and Android Auto connectivity and can charge those devices with up to 1.5 amps of current. You can, of course, play your compact discs, thanks to the inclusion of an optical mechanism, and watch DVDs when the vehicle's parking brake is set.
Apple CarPlay and Android Auto Smartphone Connectivity
CarPlay and Android Auto allow you to use voice commands to send a text message, make phone calls and choose the entertainment source you want. You can also get turn-by-turn navigation directions using programs like Google Maps and Waze to help you get to your destination safely and efficiently.
iDatalink Maestro RR Vehicle Integration
A fantastic feature built into the Sony XAV-AX210 is support for the iDatalink Maestro RR and RR2 digital network interface modules. When connected to the radio and the CAN data network in your vehicle, the AX210 can show information from parking sensors, work with factory infotainment systems like Ford Sync and even allow you to adjust the climate controls on certain vehicles. USB port and backup camera retention are also available in many applications.
Audio Adjustment Features
Of course, what fun would a car radio be without cool audio-related features to make your stereo system sound better? The AX210 includes Sony's four-channel 220-watt Dynamic Reality power amplifier, six-channel 4-volt preamp outputs with adjustable crossovers and a 10-band equalizer to make system configuration and tuning a breeze for our technicians.
Experience the Sony XAV-AX210 at Nu Image Audio
If you are in the market for a new radio, drop by Nu Image Audio and check out the Sony XAV-AX210 AV receiver. A member of our team would be happy to answer any questions you have and provide you with a quote to integrate one into your vehicle. For more information, give us a call or send an e-mail using our contact page.