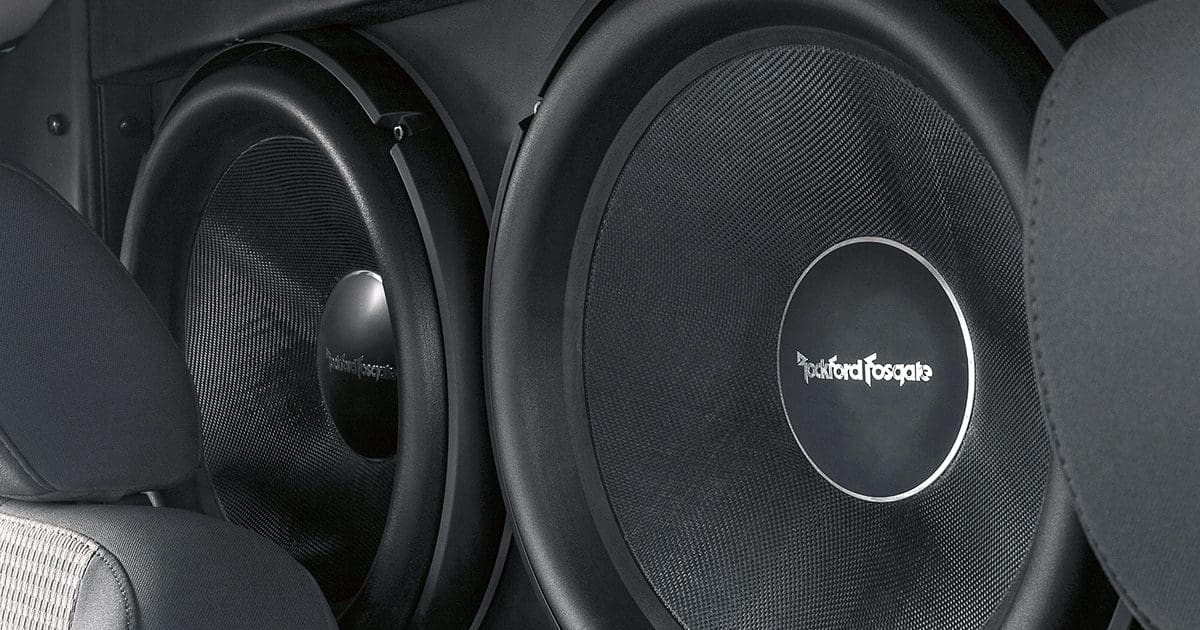 When it comes to car audio subwoofers, Rockford Fosgate has solutions for everyone. Whether you need something affordable for the daily driver or want ground-shaking bass that registers incredible SPL measurements on the meter, they have you covered. At the top end of the scale is the Power Series T2S1-16 and its brother, the T2S2-16. These massive 16-inch subwoofers are rated to handle 2,500 watts of power and move air like you've never experienced before.
Rockford Fosgate T2S1-16 Features
The T2S1-16 is a 16-inch subwoofer with an effective cone area of about 1.25 square yards. Compare that to a typical 15-inch subwoofer, and you have almost 24% more cone area. That means more efficiency from every watt of power from your amplifier. This subwoofer is based on a proprietary die-cast aluminum chassis that includes twin spider mounting plateaus and extensive cooling vents around the voice coil. Ensuring that everything remains aligned and linear at high excursion levels is paramount with a cone assembly that weighs just shy of 1.25 pounds. The twin progressive Nomex spiders are spaced apart to help prevent rocking when things get loud.
The massive cone includes twin glass fiber layers sandwiched over an aramid honeycomb core to deliver amazing strength and rigidity. An aluminum dust cap with the Rockford Fosgate logo in silver keeps debris out of the monster 3.96-inch aluminum voice coil former. The voice coil winding is edge-wound to optimize flux density and provide excellent efficiency. Edge winding a flat wire is a difficult process and nearly unheard of in car audio, so this tells me it's designed for sound quality as well as efficiency. The tinsel leads from the coil to the massive eight-AWG terminals are sewn to the spiders to keep them under control.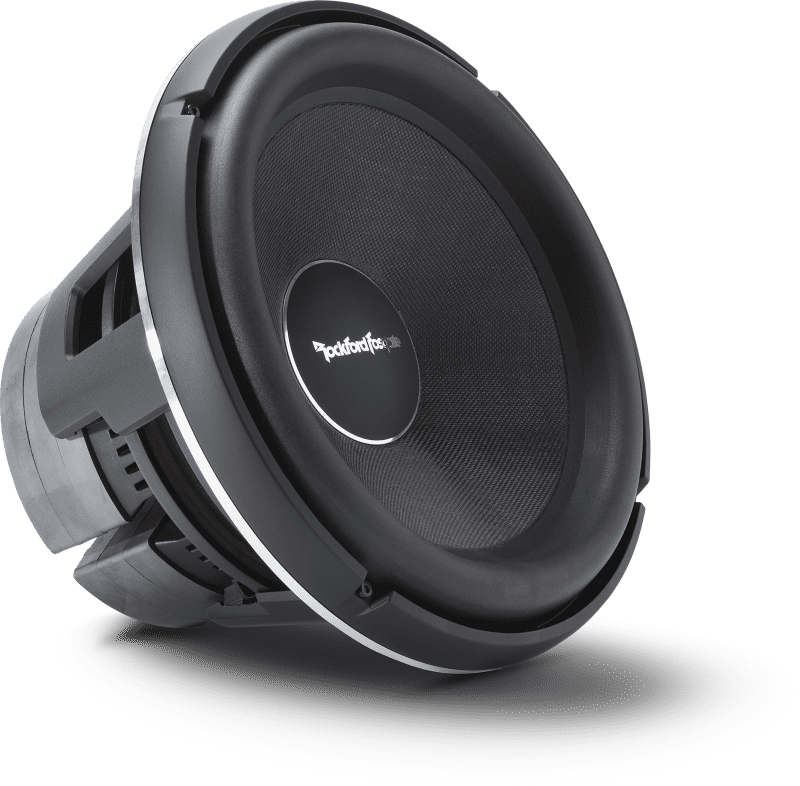 An injection-molded foam surround at the top of the cone is secured to the basket with an aluminum clamping ring. The T2S1-16 uses Rockford Fosgate's Vertical Attach Surround Technique (VAST) to optimize the cone area of the driver. This method eliminates the 90-degree mounting angle typically used to secure surrounds to a basket while helping to increase the radiating cone area for more SPL.
The design engineers at Rockford Fosgate included a unique inductive damping heatsink on top of the motor assembly. The heatsink fins help radiate heat and keep the voice coil cool. More importantly, the copper assembly dramatically reduces voice coil inductance to minimize distortion and improve midbass response. The 1-ohm T2S1-16 has a voice coil inductance (Le) specification of a mere 0.53 millihenries. Competing products are often two to four times higher, leading to changes in performance based on cone position. For reference, the T2S2-16 is a single voice coil 2-ohm driver with all the same features. Three 11-pound (5-kilogram) segmented ferrite magnets are stacked on the bottom of the driver to drive this monster.
Last and certainly not least, we should talk about dimensions. The T2S1-16 requires a speaker cut-out with a diameter of 15.04 inches and a mounting depth of 10.47 inches. You will want to have eaten at least two bowls of Wheaties before attempting to handle this roughly 85-pound behemoth.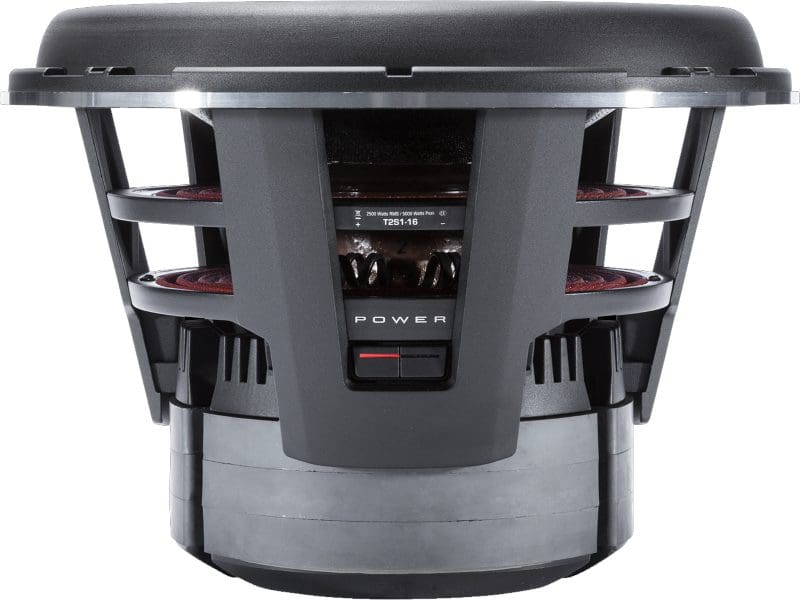 Room to Boom
Rockford Fosgate offers two enclosure recommendations for the T2S1-16 on its website. If space is at a premium, then a sealed enclosure with a net internal air volume of 2.3 cubic feet provides a -3 dB frequency of 43.3 and a Qtc of 0.74. If you really want to rock, a vented enclosure with a net internal volume of 5.5 cubic feet and three 4-inch vents tuned to 35 hertz will get pretty serious. The F3 frequency of the vented enclosure is 29 Hz, and you'll have picked up more than 10 dB of output at 40 hertz compared with the sealed enclosure for the same amplifier power. Even with 5,000-watt peaks in terms of drive power, the T2S1-16 won't reach the jaw-dropping 34-millimeter Xmax rating of the sub at any frequency above 23 Hz. If you need a high-power subwoofer for a home theater or even a small movie theater, a vented enclosure with a slightly lower tuning frequency will be nearly flat to 20 Hz and capable of producing enough bass to make you think a jet engine or explosion is happening in the same room.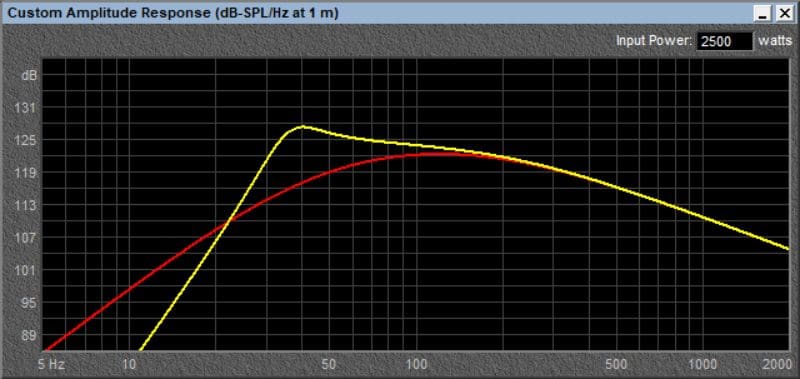 Feed Your Need for Bass with Rockford Fosgate
If you demand the best when it comes to high-output car audio subwoofers, drop by a local authorized Rockford Fosgate retailer and ask about the amazing Power Series T2S1-16 16-inch subwoofer. This sub is a perfect match for the T2500-1bdCP amp we looked at a few weeks ago.
You can learn more about Rockford Fosgate Power Series products by visiting their website. Be sure to follow Rockford Fosgate on Facebook, Instagram and YouTube to be the first to learn about their solutions for car, motorcycle, marine and powersports fanatics.
This article is written and produced by the team at www.BestCarAudio.com. Reproduction or use of any kind is prohibited without the express written permission of 1sixty8 media.