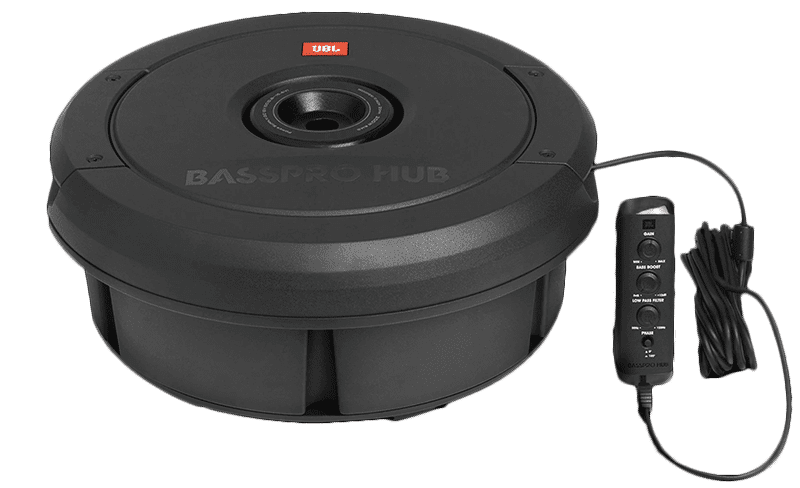 If you're looking for an amazing way to add great bass to your car or SUV, drop into Nu Image Audio in Salina and ask about the JBL BassPro Hub subwoofer system. This all-in-one bass upgrade includes a uniquely designed cylindrical enclosure with an integrated 200-watt amplifier to deliver that extra kick that most factory sound systems are missing.
Amazing Bass Without Wasted Space
The BassPro Hub is designed to fit inside the spare tire of your car or truck. That's due to a cylindrical design that is 6.5 inches tall and 14.1875 inches in diameter, creating an enclosure that will fit in most spare tire wheels without any problem. The engineers at JBL have provided a pass-through in the center of the enclosure to enable you to secure the subwoofer and your spare tire to the vehicle.
JBL BassPro Hub Features and Specifications
The 11-inch subwoofer in the BassPro Hub has been optimized for the available air volume in the enclosure. With its fiberglass cone and rubber surround, the system produces low second- and third-order harmonics for clean, clear and realistic performance.
With RCA and speaker-level inputs on the built-in amplifier, we can install the BassPro Hub in most vehicles and connect it to factory-installed or aftermarket source units. An included wired remote control provides quick access to the output level, crossover, bass boost and polarity adjustments. You can dial in a little extra bass when your favorite song comes on the radio or roll things back when you're out cruising with your family.
Why Subwoofer System Upgrades Are Important
One of the most cost-effective and highest-performing upgrades you can make to your factory stereo is to add an aftermarket subwoofer. Have a look at the bass adjustment on your factory radio. If it's turned up, even by one or two notches, the small speakers and tiny amplifier in your car have to work almost more than six times as hard. With a subwoofer like the BassPro Hub, you can leave the bass adjustment on the radio flat and let the speakers take care of midrange and high-frequency information. The sub will handle reproducing the music below 80 Hz to make your stereo sound rich, full and amazingly lifelike.
Visit the Car Audio Experts at Nu Image Audio
Whether you're after a great value upgrade like the JBL BassPro Hub or want a custom subwoofer system created, the audio integration experts at Nu Image Audio in Salina are here to help. Drop by today and a member of our team will help you choose the perfect upgrade solution for your car, truck or SUV. If you can't stop by, give us a call or send our team an e-mail using our online contact form.