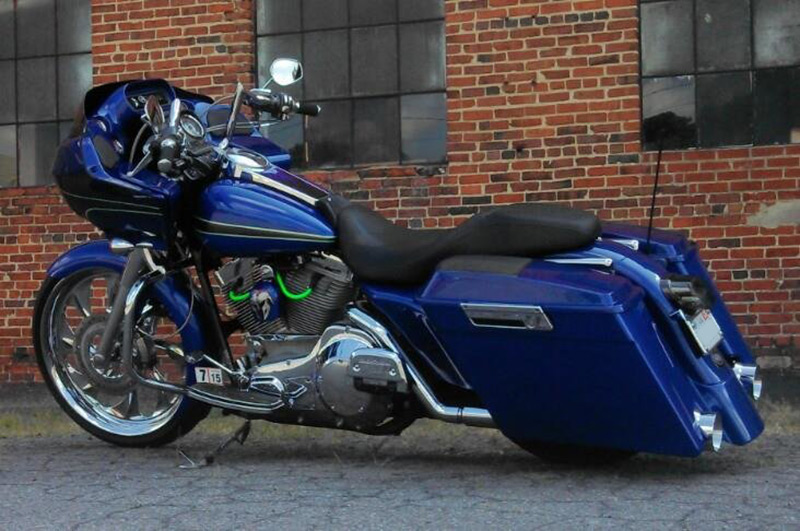 If you are looking for the ultimate styling upgrade for your Harley-Davidson touring bike, visit Nu Image Audio in Salina and ask about our custom Dirty Air suspension installations. Our air ride solutions let you raise or lower your bike at the press of a button. It gives you a both a cool look and a smooth ride.
Why Choose Dirty Air Suspension Systems?
Dirty Air kits and components are designed and manufactured in Kansas City by Dirtyworks LLC. Their proximity means we can get any questions we have answered quickly. In most cases, components and kits are available for delivery the next day.
System Flexibility and Options
The systems and components Dirtyworks offers are designed for performance, reliability and a clean installation. Depending on your goals, we can customize your system with a different compressor, air tank sizes and locations. We give you options. You can control the system easily with switches on your handlebars or on the dash. If you only want air ride on the front or rear of your bike, we can do that as well.
Dirty Air kits work with factory-installed trees or aftermarket products from American Suspension, HHI, Misfit Trees, Arlen Ness and MC Baggers. If you have a different system, let us know. We'll find a way to make it work.
Dirty Air kits also include premium compressors from VIAIR. These are widely considered the best automotive-grade compressors in the industry. You can choose from the model 380C, 100C or 95C to suit your application, installation location preference and how fast you want the system to lift the bike.
The amazing MRI Center Stand is a twin-post motorized kickstand that keeps your bike upright when the suspension is aired out. Unlike a conventional kickstand than leans your bike to one side, the center stand is more stable and dramatically reduces the chances of your bike tipping over when parked on soft pavement.
Expert Installation
Our team of technicians are experts in integrating the mechanical and electrical systems of the suspension to your bike. We obsess over every wire and hose path to ensure the system will perform flawlessly and look great.
We include a safety dump switch as part of every installation. Once parked, the safety switch ensures that your bike can't be lifted by accident, no matter what buttons get pushed.
Upgrade your Harley Touring Bike at Nu Image Audio
If you are interested in adding an air suspension system to your bike, drop by Nu Image Audio in Salina and ask us about Dirty Air suspension products. We'll assess your bike and let you know exactly what it will take to give you the look you want. For more information, give us a call or send an e-mail using our contact page.