Clients choose Nu Image Audio in Salina for the best residential and automotive window tint in Kansas. We take pride in offering our customers premium products and attention to detail that continuously sets us apart from our competitors. This article explains several of the reasons why our clients tell their friends, co-workers and families about our tinting services.
Premium Automotive Film Products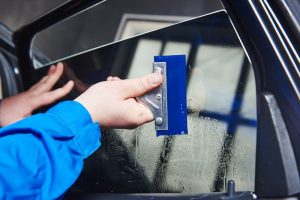 A great window film installation requires education and thoughtful execution. It also requires excellent window film products. We want you to be happy with the work we do every time. There is no value in using a film that will only last a few years. We do it right the first time, every time. Our standard automotive window tint film is what other companies offer as their upgrade solution.
Our standard film carries a lifetime warranty against bubbling, peeling, cracking and fading. The film offers exceptional optical clarity. The film blocks 99% of UV rays to protect the interior of your vehicle from fading. UV rays are also responsible for accelerated skin damage in the form of wrinkling or in extreme cases, skin cancers.
Our premium ceramic film products increase the thermal rejection capabilities of our standard film. Even a lightly colored ceramic film like our 70% offers a 30% reduction in thermal energy transmission. Our ceramic film will keep your car cooler and ease the load on its electrical system.
Residential and Commercial Tint and Window Treatment
Is the sun washing out your computer monitor at work? Is it hard to see your TV on the wall of your living room? Do you have a conference room that you want to make more private? Our residential and commercial window tinting services provide myriad solutions to make your home or office more comfortable.
A tinted window film will reduce light transmission and glare. You will suffer less eye strain. The load on your air conditioning system can also be dramatically reduced.
We have applied patterned translucent and opaque films to provide the privacy that our customers need. Front doors and windows, meeting rooms, conference rooms, and more are all great applications.
Expert Residential and Automotive Window Tint Installation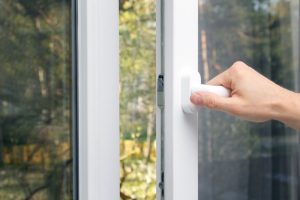 Proper film preparation is the first step in ensuring our window film installations will look amazing. Our obsessive attention to detail ensures that we trim our film edges perfectly every time. The result is a perfect appearance and enhanced reliability.
Our glass cleaning and preparation process ensures that no dust or debris will be trapped under the tint. We have even fine-tuned our slip solution to enhance the adhesive performance of the films we install.
Every step of the installation process is important when it comes to making our clients happy.
Contact Nu Image for all Your Window Tint Needs.
If your vehicle, home or office can benefit from window tinting, give Nu Image Audio call at 785-309-1617. A member of our consultation team would be happy to work with you to develop a window tinting solution that meets your needs. From solar energy control to privacy concerns or just a great look, our team is happy to help. You can reach us by e-mail using our online contact form for more information about any of our products or services.