Here at Nu Image Audio, we have become the experts in remote start installation after installing thousands of them through the years. In fact, we have 40-plus years of combined experience in installing remote starts.
Is All That Experience Really Necessary?
Can you just go with the lowest price? Aren't they all pretty much the same?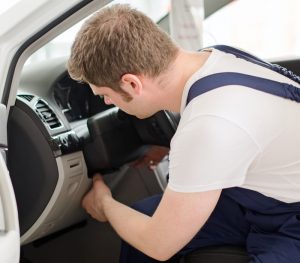 Well, vehicles have become much more complex since the remote starter was developed years ago. Your starter used to be wired directly to your ignition switch and everything was pretty straightforward. With today's vehicles, everything works by computer, and understanding how all of that ties together is a lot more complex. Everything electronic in your vehicle is now connected through a CAN-BUS system and tied into a central computer for control. The remote start system has to tie into that system and have the ability to communicate with the computer for your vehicle to start, whether with the key or from a remote a half a mile away.
This level of complexity requires a technician who has been trained in the latest techniques and the new vehicles that come out every year with new challenges. Our technicians receive the most up-to-date training, so they are ready for your new vehicle when it arrives at our shop.
Pride In Our Work
We pride ourselves on doing a clean, professional installation. Some shops will take the easy way out and use quick connectors to speed up the installation. We solder each wire and do a quality installation that we can back with a lifetime installation warranty. You won't find yourself stranded because a quick connector came loose and your vehicle won't start.
Up To Date With The Current Products
We are constantly evaluating the best products on the market to offer our clients the best possible quality. There are a lot of new manufacturers in the business now, and some of them cut corners on product quality, just like some installers cut corners on the installation. Their low prices may be tempting, but the combination of a cheap system and a quick install will cost you a lot more in the long run.
Here at Nu Image Audio, we make it easier to invest in a good-quality system. We will even remove it for free when you are ready to sell your vehicle so you can install it in your new vehicle. A good system will last for many years, and possibly several vehicles as well. We will even install new batteries in your remotes for as long as you own the system.
Visit Us Today For A Quality Remote Start Installation
Come on by Nu Image Audio or contact us here for more information. Let our sales and installation staff show you the high-quality remote starts that we offer and what we can do for your vehicle.