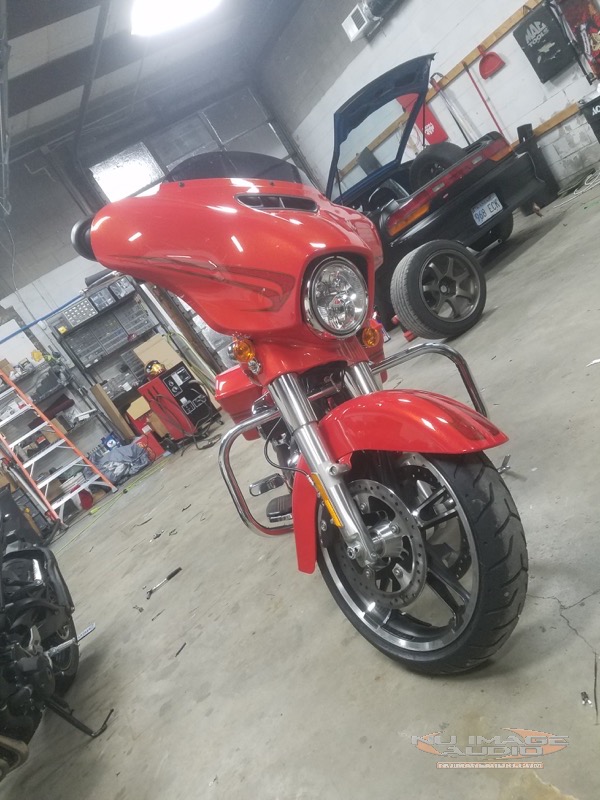 A client from Salina, KS came to Nu Image Audio in search of a better stereo for his 2017 Harley-Davidson Street Glide Special. Harley builds excellent bikes, but they need some help in the audio department. We talked to the customer about the features of the audio system that he liked, and what he wanted to upgrade. The client also mentioned that he was interested in having a radar detector on the bike. We developed a plan for a fully-active audio system that would sound amazing. More importantly, it would look like it came from the factory, with an equally well-integrated radar detection system. With the plan approved, we scheduled an appointment to start this Harley-Davidson stereo upgrade project.
Amplifier Selection
To power the audio system, we chose an Audison Prima AP 8.9 bit amplifier. This amplifier features an integrated DSP processor that lets us work with the factory audio system's strange equalization curve to produce excellent sound quality. We mounted the amp above the factory source unit. Then we wired it into the bike's harnessing. We use cloth tesa tape to make all the wiring look like it came from the Harley factory.
The amplifier has eight channels of amplification, but we bridged each pair to drive the four speakers on the bike. In this configuration, the amp can produce up to 65 watts per channel. The onboard processing allowed us to set crossover points, adjust output levels and fine-tune frequency response for each of the four channels.
Custom Speaker Integration
We used a set of Hertz Mille Legend ML 280.3 tweeters and ML1650.3 woofers for the bike. We removed the anemic factory speakers and placed them carefully in the dumpster. To keep the bike looking stock, we built a mounting bridge for the tweeter that locates it above the midrange driver. The woofer and tweeter mount securely to the factory speaker pod on each side of the dash faring.
Radar Detector Integration
To give the owner some piece of mind, we installed a K40 RL200i Radar detector. This integrated system uses a hidden radar receiver module that we mounted inside the front fairing with the systems control module. The only visible sign of the system is a single blue LED that we flush-mounted in the top of the dash. When the system detects radar, the LED illuminates and a hidden speaker produces a tone. The sound varies depending on the type of radar signal the system detects.
Harley-Davidson Stereo and Radar Delivery
The client returned to Nu Image Audio to hear the audio system for the first time. He was shocked at how loud it played and how clear it sounded. If you are looking for accessories for your motorcycle, contact us HERE.