Music lovers are choosing Nu Image Audio in Salina, Kansas, for their Harley-Davidson upgrades. The factory audio systems on 2014 and newer Road Glide, Street Glide and Electra Glide bikes offer a reasonable list of communication features, but their audio performance is lacking. We have several audio upgrade solutions that will dramatically improve the quality and overall volume of the sound system. Let's take a look at a few of the options we have delivered to our clients recently.
TechnoResearch Radio Programming now Available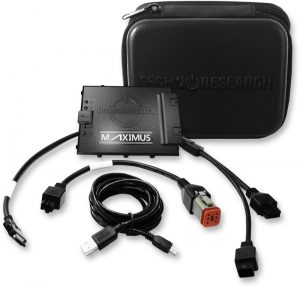 The stock sound system is lacking in two areas: frequency response and overall volume. Frequency response describes how loud the bass, midbass, midrange and high frequencies are relative to one another. If any range of frequencies is too strong or is not loud enough, your music will not sound right.
We have invested in a TechnoResearch Maximus tuning interface to help us resolve some of the audio issues on late model Harleys. This interface connects to the CAN network on your motorcycle and allows us to pick different preset audio settings on the factory radio. We can use these options to eliminate the massive bass boost that wreaks havoc with speakers and amplifiers. After we flash the radio, the performance will be smoother and the sound will be clearer.
More Power Provides More Output
The second area where the factory audio system is weak is in its ability to produce power. Our solution is to add an amplifier between the radio and the speakers. A new amp can provide as much as 10 times the power the factory radio has. When you want it loud, you will have the juice to make it happen.
New Speakers Are Critical
Perhaps it goes without saying that all Harley-Davidson upgrades should include new speakers. Your speakers are the only link between the electronics and your ears. New speakers will sound better, play louder and produce less distortion. Your music will be clearer and more detailed.
Signal Processing for More Detail
If we have installed new speakers, flashed your radio and added an amplifier, the next upgrade would be for us to install a Digital Signal Processor (DSP). Companies like ARC Audio and Audison have DSP products that can let us fine-tune the performance of your system at very reasonable prices. A DSP allows us to smooth the frequency response of your audio system even further, so the overall balance is more realistic and natural.
New Radio Replacement Options Now Available
Several of our suppliers are working on solutions that will allow us to replace your factory radio. Metra Electronics offers a kit that will enable us to install a single-DIN radio. The kit includes an LCD screen to retain control of the personalization settings that are built into the factory radio. We have heard that Scosche, another of our suppliers, is working on a kit to fit a double-DIN radio on these bikes.
A new radio will provide our clients with access to modern infotainment features like Apple CarPlay and Android Auto, and support for premium sounds formats like FLAC files.
Start your Harley-Davidson Upgrades with Us
When you decide it is time to make that sound system on your Harley perform the way it should, drop by Nu Image Audio. A member of our sales team would be happy to demonstrate the audio system we have installed on our 2017 Street Glide Special and explain the options for your bike. For more information, send us an e-mail using our online contact FORM.