A spray-on bedliner from Nu Image Audio in Salina is one of the best ways to protect and prolong the life of your pickup truck. Spray-on bedliners are a permanent addition to the bed of your truck that prevent chips, scuffs, scratches and gouges. There are nearly endless unique applications for bedliners. Let's look at why Nu Image offers the best bedliner product solutions and installations in Kansas.
Premium Materials
Our spray-on bedliner is extremely durable. It is UV-stable so it won't fade over time. Once installed, the liner protects your truck bed against staining and damage from harsh chemicals. The coating seals the bed of the truck to prevent rust and corrosion. The impact-resistant design of the liner reduces the chances of dents and dings.
Unlike plastic liners and mats, our spray-on bedliners are permanently bonded to your vehicle. They will not shift and damage the paint. They will not trap moisture underneath to promote corrosion. They also can't be stolen – they are part of your truck.
Professional Installation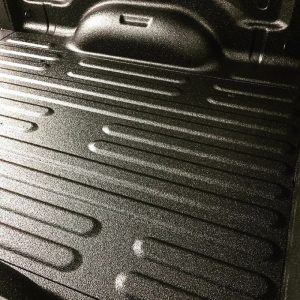 The fanaticism that drives the staff at Nu Image Audio extends to our bedliner installation surface preparation process. We start by washing and degreasing your truck bed. The next step is to scuff the paint so the liner will adhere properly. Unlike some new car dealers, we do not simply spray over the factory paint finish. Our process and premium products allow us to back our spray-on bedliner installations with a lifetime warranty against cracking, bubbling or peeling.
We can create custom colors to match the finish on your vehicle or create a unique application. We mix the color into the raw materials and extend it through the entire coating, rather than having it just sit on the surface. You can choose from a smooth, glossy finish or an aggressive high-friction surface to guard against slips and help secure your cargo in place.
Unique and Custom Applications
Our bedliner material can serve as an extremely durable finish for off-road vehicle components like fender flares, bumpers and rocker panels. Once cured, the same properties that product your truck bed from damage will keep these exterior elements looking great.
Many owners of aluminum boats have the interior of their boats sprayed to help keep them cool in the hot Kansas sun. A layer of bedliner not only makes the floor more comfortable to kneel on when fishing, but reduces noise from water hitting the hull.
Nu Image Audio Offers the Best Spray-on Bedliners
When it is time to protect the bed of your truck, drop into Nu Image Audio and check our bedliner installation facility. We can usually get your vehicle prepared and sprayed in a single day. For more information about our bedliners, or any of our products and services, send us an e-mail using our online contact form or call us at 85-309-1617.